---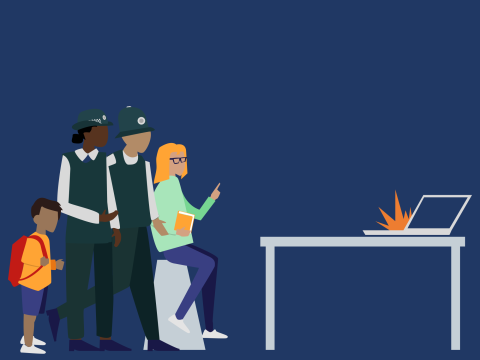 Public-facing professionals are exposed to online harms that extend into their private lives due to the nature of their roles. 3PO addresses these unique challenges through technical outputs, awareness campaigns, and prevention strategies.
Author: Dr. Marcel Obst, Research Fellow, CENTRIC
Last October, a Leicestershire hate crime officer introduced herself on Twitter and, while many praised her for her role, she also received a torrent of online abuse. Racist, Islamophobic, and misogynistic language populated the comment section of her post, pointing to a problem that is far from being an exception. Public-facing professionals – including police personnel, journalists, NHS staff, and politicians – are exposed to online harms that extend into their private lives due to the nature of their roles. The Online Safety Bill intends to address these issues through a piece of legislation that aims to make the internet a safer place for all users. The Bill introduces new rules for online platforms, requiring them to take steps to protect their users from harmful content and activity. While the Bill is an important first step, there is still more work to be done both in and beyond the policy domain.
We are currently collaborating with several police forces and the Home Office to address the unique challenges public-facing professionals experience as a result of their roles, with findings and technical outputs likely to benefit other professionals. As we are approaching the end of the first of three years of research, we are in the midst of fieldwork, gaining some fascinating insights into how police personnel use online spaces, how they and their families keep safe and what forces are doing to address online harms. However, the lack of previous research also means that we are tapping into uncharted territories and will soon be able to unveil exciting results. For the time being, we want to share some insights into our research methodologies and provide a glimpse into our ongoing work.
We are currently mapping the risks and harms faced by police personnel in their private lives and trying to gain an improved understanding of protection strategies and lived experiences of individuals working for the police and their families. We are using a mixed-method approach, combining a survey with semi-structured interviews and focus groups with police personnel recruited via our partner forces. Participants include operational and senior roles, as well as specialist functions and families (including children) to understand not only how police personnel are affected by online harms but also how their roles impact the lives of their partners and children.
We are also eager to develop technical answers to the scenarios of online harms that police personnel are exposed to and have started using early findings and analyses to inform our tool development. As we consider how online harms might be addressed and reported, as well as how they can be prevented from occurring in the first place, we have conducted some preliminary focus groups to acquire a basic idea of viable outputs.
In the months to come, we will be presenting some of our initial findings as we continue to work with police forces and the Home Office on the co-creation of technical outputs through requirements elicitation. Furthermore, we will be working on an impact strategy to disseminate our findings and outputs through training and awareness materials that will be useful to forces and beyond. Ultimately, tackling online harms requires a comprehensive approach that combines the provision of tools, the promotion of online risk awareness, and the development of prevention strategies.