---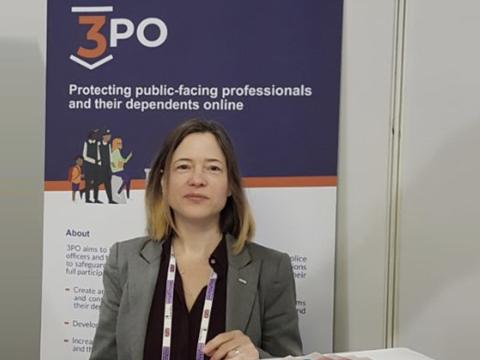 From March 14th to 16th, Professor Saskia Bayerl, 3PO's principal investigator, attended the Security and Policing event hosted by the Home Office's Joint Security & Resilience Centre (JSaRC) at the Farnborough International Exhibition and Conference Centre.
Throughout the event, Professor Bayerl and her team were present at stand B74 and were happy to share information about the 3PO, Protecting Public-Facing Professionals and Their Dependents Online Project, with attendees.
The Security & Policing 2023 is the Official UK Government Global Security Event and it offers world‐class opportunity to meet and discuss the latest advances in delivering national security and resilience with leading UK suppliers, UK and overseas Government officials and senior decision makers across the law enforcement and security sectors.
The Home Office is dedicated to engaging with business and academic partners in our joint quest to reduce crime, prevent terrorism, identify illegal immigration, and promote economic development. A crucial aspect of this project is the ability to communicate needs while getting a deeper comprehension of existing capabilities.
A wonderful chance to strengthen security ties throughout the globe, this year's edition gathered over 30 participating departments, agencies, and partners across the UK government and law enforcement, as well as over 330 world-leading suppliers and service providers.
Security & Policing is a closed event to attendees at Farnborough International Exhibition and Conference Centre, continuing to host a secure and focussed audience of Home Office approved visitors and exhibitors.
For further details visit the event's website.